The Reward Calendar has arrived. This new feature in Coin Master has been tested a few months ago by a few happy Coin Master players and I bet it worked. And of course, it does, since you get a free reward, every day. At least, if you log in each day. The free spins in the calendar are a nice addition to the daily free spins!
Daily Free Spins, Coins and chests in Reward Calendar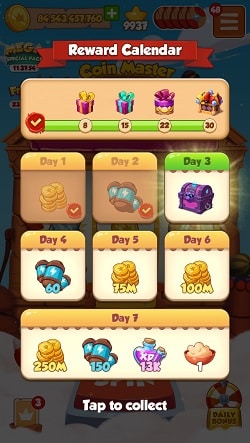 The Reward Calendar in Coin Master has a gift for you every day for 30 days. The last gift is a mystery box. And we like that! The other days you get a free bunch of coins, spins or chests. Or at the end of every week: a collection of coins, spins, xp and pet food. This Reward Calender is definitely a feature you have to login for every day.
What rewards do you get?
The rewards you get depend on the village you are at at the moment. The higher the village, the higher the rewards. This is a good thing, since you need more coins to build your villages as you get ahead in the game.
My rewards in Reward Calendar
I am at village 145 at this moment. My rewards are:
Coins
Spins
Magical Chest
60 Spins
75M Coins
100M Coins
250M Coins, 150 Spins, 13K XP and 1 Pet food
I am in the first week of Reward Calendar right now, so other gifts are a surprise to me also. The only thing I know is that the final gift at day 30 will be a Mystery chest. In the second, third and fourth week I will share my gifts for these days.
What were your rewards
What rewards did you get in Rewards Calendar? Let us share and learn what the rewards are for the village you are at! If you want to learn more about playing Coin Master than check out my video's at Youtube!